Do you want to be stronger and healthier? With Pilates exercises, you can strengthen your entire body.
You will improve your flexibility, and mobility, and get a boost of new energy. You will also get more fit, lose weight and improve your posture. Last but not least – Pilates helps you to reduce stress and to relax.
You can get it all with simple and fast exercises.
Pure Pilates workout app will help you to exercise at home without the need for any equipment.
Download from Google play store: https://play.google.com/store/apps/details?id=app.workout.pilates
Download from Apple app store: https://apps.apple.com/us/app/pure-pilates-workout-at-home/id6444024217
With our systematic approach to creating effective, healthy workout programs you can get a strong body, more energy, flat stomach, burn belly fat and calories. Exercises are simple and enjoyable with helpful animations and videos.
3 Difficulty Levels
We have workouts for everyone – beginners and pros. Every day you will get a different set of workouts, so it's always exciting and fun.
Target all body parts
Our workout programs focus on different parts of your body, like abs, belly, butt, legs, arms, shoulders, chest, and back.
App Features:
* 100+ exercises for legs, abs, back, chest and shoulders
* 30 days Pilates challenge
* 30 days Plank challenge
* Always updating workout programs
* Custom programs – create your own programs
* Replace or reorder any exercise
* Adjust rest time
* Workout description audio reader
* Workout duration from 5 to 50 minutes – depending on the difficulty you choose
* Full offline support
* Voice Coach
* HQ Video tips
* Dark mode
* Cloud synchronization
* Google fit synchronization
* Apple Health synchronisation
* BMI calculation
* Workout statistics
* Daily reminders
* Articles about fitness
The app also provides additional programs and exercises, such as:
* Morning, Afternoon and Evening programs
* Warm-up and cooldown programs
* Back Pain & Stiffness workouts
* Workouts at work
* Anti-stress workouts for mood and confident
* Challenges
* Relaxation workouts
* Yoga exercises
The app is also for people:
– Who loves pilates
– Who loves yoga
– Who wants to see changes fast
– Wants to reduce stress level
– Wants to exercise at home
– Wants Lose weight
– Wants Lose belly fat
– Wants to gain strength or even weight by gaining muscle mass
– Who wants to have a healthy spine
– Who wants to reduce lower or upper back pain
– Who has to sit a long time at work or home
– Who wants to reduce stress level
– Who wants to stretch the upper and lower body
– Who wants to have a good healthy body
– Who wants to fix forward head posture
– Who wants to stop progressing or fix scoliosis
– Who wants to stop progressing or fix kyphosis
– Who wants to stop progressing or fix osteoporosis
– Who wants to stop progressing or fix thoracic outlet syndrome
– Who wants to stop progressing or fix text neck
App-supported languages:
* English
* Russian
* Romanian
* German
* Dutch
* Italian
* Spanish
* Portuguese
* French
* Japanese
* Chinese simplified
* Turkish
* Arabic
Thanks for reading all the way to the end. Time to get a stronger body!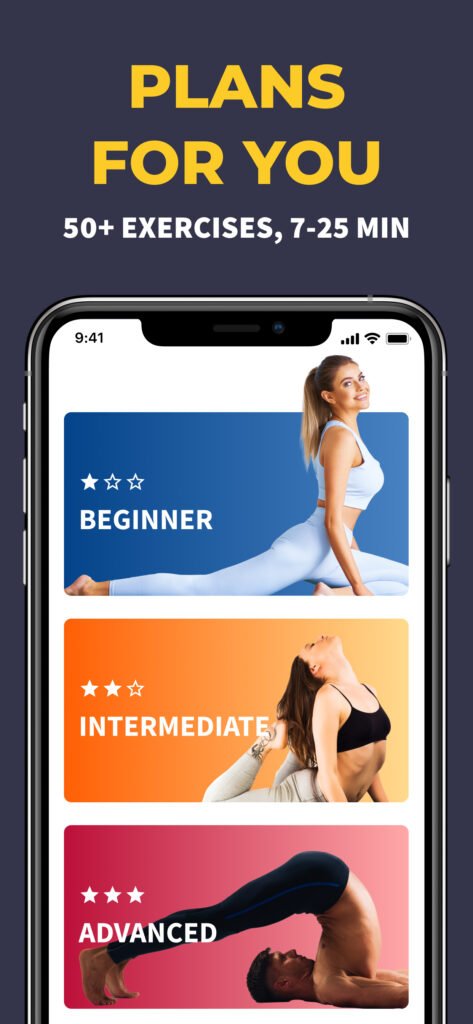 Download from Google play store: https://play.google.com/store/apps/details?id=app.workout.pilates
Download from Apple app store: https://apps.apple.com/us/app/pure-pilates-workout-at-home/id6444024217