Do you want to get flat belly and burn calories? You can get it with simple and fast exercises.
Lose weight app will help you to exercise at home without the need of any equipment.
Download from Google play store: https://play.google.com/store/apps/details?id=app.loseweight
Download from Apple app store: https://apps.apple.com/app/lose-weight-fitness-at-home/id1614140046
With our systematic approach to creating effective, healthy workout plans you can get flat stomach and burn belly fat. Exercises are simple and enjoyable with helpful animations and videos.
3 Difficulty Levels
We have workouts for everyone – beginners and pros. Every day you will get different set of workouts, so it's always exciting and fun.
Very Fast Workouts for everyone
Our very fast workouts start from 5 min. You can do them anywhere you want – at your home or office; you can to them any time – at morning, afternoon or evening.
Target all body parts
Weight loss workouts focus on different part of your body, like abs, belly, butt, legs, arms, shoulders, chest, back.
Why should you consider losing weight?:
– Lower blood pressure
– Decreased risk of stroke
– Improved blood sugar levels, helps regulate diabetes
– Lower levels of triglycerides
– Less risk of heart disease
– Improved mobility
– Decreased joint pain
– Better sex and less erectile dysfunction
– Improved mental health
– Improved mood
– Better sleep
– Better self-esteem
– Improved insulin resistance
– Lower risk for multiple cancers
Features:
– Beginner friendly
– For women and men, young and old
– No equipment is needed
– 90+ back and shoulder exercises
– 30 days challenges to lose weight
– Create your own plans
– Replace any exercise
– Reorder exercises
– Adjust rest time
– Workout description audio reader
– Workout duration from 2 to 25 minutes – depend on difficulty you choose
– Full offline support
– Voice coach
– HQ video tips
– Dark mode
– Cloud synchronization
– Google Fit synchronization
– BMI calculation
– Burned calorie statistics
– Daily reminders
– Achievements system
– Music player
– Downloadable plans
– Fitness articles
– Meals advices
The app also provides additional Plans and Exercises, such as:
– Morning, Afternoon and Evening plans
– 5 minute warm ups
– Burn fat workouts
– Lower body workouts
– Abs workouts
– Legs workouts
– Anti-stress workouts for mood and confident
– Challenges
– Cardio workouts
– Strength workouts
– Highest intensity workouts
– Relaxation workouts
App is for people who wants to:
– Lose weight
– Have flat belly
– Exercise at home
– Gain strength
– Stretch upper and lower body
– See changes fast
– Reduce stress level
– Have good healthy body
App is available in following languages:
– English
– Russian
– Dutch
– Italian
– Spanish
– German
– French
– Portuguese
– Japanese
– Chinese simplified
– Turkish
– Arabic
Thanks for reading all the way to the end. Time to lose weight! ✌🚀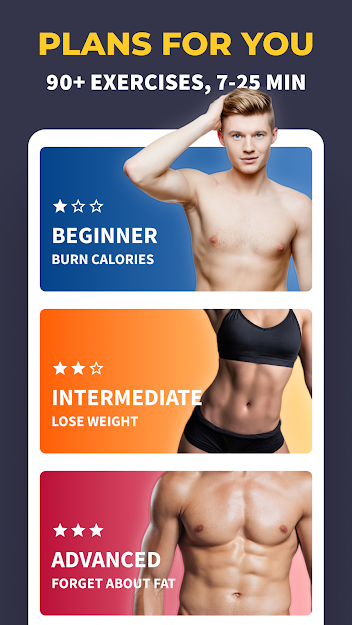 Download from Google play store: https://play.google.com/store/apps/details?id=app.loseweight
Download from Apple app store: https://apps.apple.com/app/lose-weight-fitness-at-home/id1614140046